The following information was provided by Bosch.
The Smart System by Bosch eBike Systems – consisting of the eBike Flow app, control unit, display, battery, and drive unit – ensures an individual eBike experience. The new system generation combines technologically high-quality eBike components with digital functions and thus raises your everyday and leisure riding pleasure to the next level.
---
The eBike Flow app
Transform your eBike ride into a very personal experience!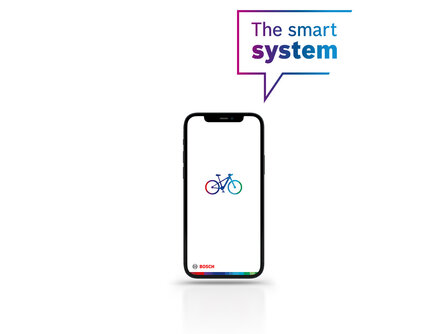 1. Enhance the eBike
Use the eBike Flow app to download new functions and updates for components like the rechargeable battery or motor and send them to your eBike via Bluetooth. That way it's always up to date and you get to enjoy more options.
 2. Record activities
Record your ride and fitness data as soon as you set off. For iPhone users, activity tracking can also synchronize all data automatically with Apple Health if desired. When you take a break, recording stops automatically.
 3. Customize riding modes
Adapt the riding mode exactly to your needs: You can finely adjust the Eco, Tour, Sport and Turbo riding modes so that they offer you more support or consume less power.
 4. Everything in sight
Use the home screen to gain a quick overview of everything that's important. Whether battery status, remaining range, distance already covered, or the next service appointment, the home screen clearly shows you everything you need to know with constantly updated eBike data.
---
PowerTube 750
The biggest capacity PowerTube for long and challenging rides!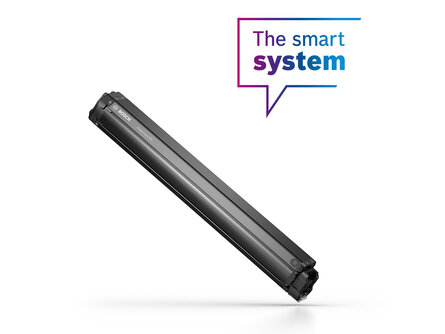 1. Maximum range
The PowerTube 750 makes it easy to conquer long distances and significant variations in altitude. The durable power source enables approx. 20% greater range than the PowerTube 625 and is ideal for long and challenging rides.
 2. Elegant eBike design 
Like all Bosch PowerTubes, the PowerTube 750 is perfectly integrated into the frame. An appealing eBike design and high capacity – an uncompromising combination.
 3. Reliable power source
High safety standards, enormous mileage, long service life, reliable handling – the lithium-ion battery is equipped with a Bosch Battery Management System (BMS) that protects the battery cells from overload.
 4. User-friendly handling
The PowerTube 750 is characterized by particularly easy handling. The rechargeable battery is always securely anchored in the frame during all rides; it can be removed via an intuitive, lockable mechanism and offers you user-friendly operation.
---
LED remote
A fully connected control center that's fun to use.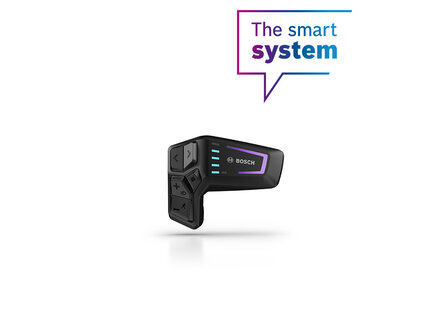 1. Optimal readability 
For less distraction and more safety. All important information can be captured quickly and easily thanks to the LED remote. The LEDs are also highly visible in sunlight, and the brightness of the display adapts flexibly to the ambient light: This means that readability is maintained even in changing light conditions and you are never dazzled. You can also quickly recognize the selected riding mode by the respective color.
 2. Smart connectivity
Greater flexibility, comfort, and safety: The LED remote connects the eBike with the eBike Flow app. This enables you to call up all important riding data, such as the duration of your ride or the distance covered, using your smartphone and to share this with other users. It is also possible to carry out software updates independently.
 3. Helpful support
Even on the steepest of trails, when riding is no longer an option, you can push your eBike more easily with the help of Walk Assist: Simply press the minus button, move the eBike and you will already feel the support. The LED remote also acts as your guide, making handling easier for you. Walk Assist is especially helpful when eMountain biking in challenging terrain.
 4. Ergonomic handling
The LED remote can be individually adjusted to the rider and, in addition to an attractive design, offers optimal ergonomics and intuitive operation. It is attached to the handlebars so that all buttons can be reached and operated perfectly with the thumb — for a better riding experience, during leisure time or when traveling.
 5. Durable
Reach your destination more safely and sustainably: You can rely on the longevity of the rechargeable battery of the LED Remote. If the battery does need to be replaced, this can be done by a Bosch certified dealer.
---
Kiox 300
A networked computer for athletic riders.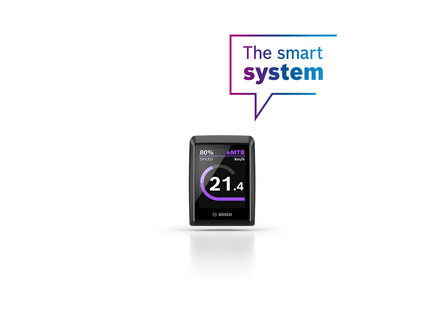 1. Smart connectivity
The new Walk Assist feature can be activated via the LED remote and provides helpful assistance on tricky climbs. Kiox 300 provides clear, visual guidance and facilitates intuitive operation. Also, in order to better assess which riding mode is the best choice for reaching the chosen destination, Kiox 300 clearly displays the remaining range for all riding modes. This allows you to better assess which riding mode is the easiest way to reach your destination – for better ride planning.
 2. Features that are fun
The robust display is an intelligent companion for sporty rides that can be used to determine fitness data or to optimize personal training. Kiox 300 always remains up to date thanks to regular over-the-air updates and will continue to provide the optimum flow with more features and new functions via the eBike Flow app.
 3. Easy to read, stylish design
Small but surprising. Kiox 300 scores not only for its compact size, but for its color display, which has optimum readability by day and night. The operation via the LED Remote is simple and is visually supported by animations and images. The handy display underlines the sleek eBike look and is protected against splash water and dust.
 4. Custom positioning 
The display holder allows the display to be positioned individually on the handlebar and is adapted to your personal needs. The angle of the display can also be individually adjusted – for optimum readability when riding.
---
Drive Unit Performance Line CX
A true powerhouse for an exciting experience!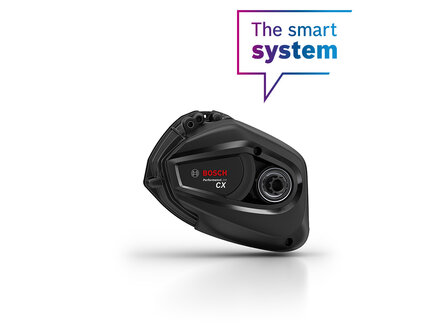 1. Powerful up the climb
The maximum torque of 85 Nm has a noticeable effect on riding behavior when mountain biking. The motor enables powerful acceleration after tight turns and obstacles at a low cadence and facilitates starting up on a hill. For fast sprints, the motor also provides support at high cadences.
 2. Intuitive handling
A mode for more focus. Specially designed for sporty use, eMTB mode offers you optimum control and intuitive handling, as you need to switch less between the different riding modes. With this clever function of the eMTB mode, technical sections can be crossed with confidence and obstacles such as roots and thick branches can be overcome by applying targeted pedal pressure with the Extended Boost. The Performance Line CX drive unit thus ensures even more fun and flow for an experience that sets the standard.
 3. Maximum agility
The multi-sensor concept allows for a controlled and agile ride even on technically demanding trails; when combined with the innovative Bosch motor control it ensures the highest dynamics and sensitivity.
 4. More input and range
With the Tour+ riding mode found on Performance Line CX, the focus is always on the journey. It eliminates the need to manually switch between riding modes and saves energy by increasing rider input. This provides a smooth ride in every situation, even when tackling long distances.
 5. A personal riding experience
To ensure that the eBike's handling suits your riding style or the selected route, the available riding modes can be customized using the eBike Flow app. The level of the support, dynamics, maximum speed, and maximum torque of the drive can thus be flexibly adjusted to your personal needs and preferences.
 Motor Tech Specs:
Support level (%):                         Maximum Torque Drive (Nm):                         Maximum Torque Drive:
TURBO: 340 TURB0: 85*** >120
eMTB**: 140-340                          eMTB**: 85
TOUR: 140                                   TOUR: 50
TOUR+****: 60-340                      TOUR+****:85
ECO: 60                                       ECO: 40