If you ever need to store your eBike outside, investing in a bike cover may be a good idea. For those of you who are thinking about purchasing a cover for your eBike but don't know where to start, read on!
Storing outside; Security
If you ever need to lock your bike up outside for an extended period, a cover is great for weather protection and adds a bit of urban camouflage. A cover can transform an amazing bike into an anonymous object which greatly reduces the chances that someone will be inspired to steal it.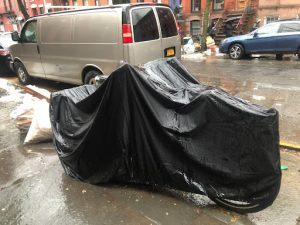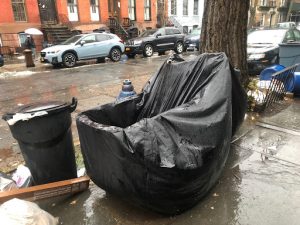 Can you spot the $7000 bicycle? Bicycle or trash?  
Transporting
A bike cover is also good if you're transporting a bike by vehicle; car, van, RV, etc. It keeps road dust off and can deter would-be thieves. A cover designed for transport may have different features than one designed for storage. The main thing to ask yourself is: "does it fasten securely on the rack so it won't fly off while driving?"
What to look for in a bike cover
At this time the Urban Arrow Family Bike Parka is the only bike cover that Propel carries. However, thanks to our wonderful customers and Propel YouTube fans, we do have some recommendations for what to look for in a cover:
For added security look for a cover with openings that you can thread a lock through. This way, you can cinch the cover and lock it under the frame or through the wheels.

Reflective details, especially ideal when transporting.

Plastic fasteners over metal.

Stitched openings. Fabric around grommets is susceptible to tearing and metal grommets rust.

Black with no logo blends in and doesn't draw attention.

Silver, reflective covers can reduce the risk of your bike over heating in the sun.

$30 is a good base price to benchmark—less than this, and it might not last very long.
For Bakfiets (front loaders) and other larger-than-average cargo bikes
A few of our front-loader cargo bikes have covers specially designed to fit their larger size. The Urban Arrow Family has its own Bike Parka and the Butchers & Bicycles MK1-E has the Full Bike Cover with their logo on it. These are custom fit to the bikes, leaving just a little bit of tire exposed.
As for other cargo bike users, our customers and online eBike community have offered their wisdom with the following suggestions: 
Some companies that make regular covers, such as ProTool and YardStash, have sizes up to XXL. We have heard from customers and members of cargo bike forums that these can work. Check out the YardStash XXL here and the ProTool bike covers here.
A cover for another cargo bike
The Urban Arrow Family Bike Parka has been known to work on the GSD! 
Many of Propel's cargo bike customers that use covers have found that motorcycle covers work well. Motorcycle covers come in many varieties, and at many different price points. You can buy a really nice one that will last well. 
***Alternatively, if security and not weather are your main concerns, one Manhattan-based Propel customer recommends getting one that looks weathered and used: "No one's gonna want to look under that!" Ebay has both new and used motorcycle covers.
We have heard that moped covers are generally made from good materials and are a good fit for cargo bikes. You can check out the official Vespa US site here, but many other moped vendors sell covers as well.
If you prefer a very aesthetically pleasing option at a higher price range, an English company, BikeParka (not to be confused with Urban Arrow's Bike Parka), makes a range of awesome bike covers for bikes of all sizes.
***BikeParka does not currently distribute to the United States, but there is a Canadian store, Curbside Cycles, that is able to place orders with BikeParka and ships to the U.S. Check out the accessory section on the Curbside Cycles website here. 
Clarijs is a Dutch company that has made weatherproof covers and bags for bikes (and other things) since 1948. Their high-quality covers work for bikes of all sizes, including cargo, although at this time all products are shipped from the Netherlands. 
We hope this helps! If you have your own bike cover recommendations, let us know, we'd love to hear from you!
Special thanks to Propel Brooklyn, NY customers Noel, Reilly, Brett, and Amanda for sharing your stories!