If you or the person you're eBike shopping for is planning to do long rides often (60+mi), an eBike with two batteries may be the way to go. Whether you are shopping for a new electric bike or looking to retrofit one that you already own, we have some answers for you.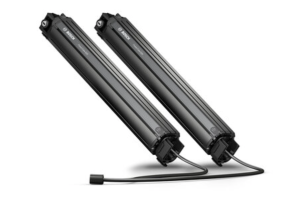 You can always bring along an additional battery for longer trips!
Bosch batteries weight an average of 8 pounds. Before we get into the details, we highly recommend determining how far you're going to ride your eBike on a regular basis. A dual battery set-up or upgrade is a great way to go, but if your normal mileage is within the range of one battery, you may not need it. When preparing for the occasional longer ride, you can purchase an additional battery and bring it along with you to switch out as needed.
If you're interested in learning more about Bosch battery range, check out this post: How Far Can I Ride? Bosch Range Assistant Guide.
Find an eBike designed with dual battery in mind
The Tern GSD, select Bulls bikes, and many bikes made by Riese & Müller come with two batteries already installed.
All Tern GSD models have mounts for two batteries already wired into the bike. This means that you can buy a GSD with either one or two batteries. If you buy it with only one battery, you can easily purchase a second one later when you discover that riding it is so much fun that you want to take it to the limit!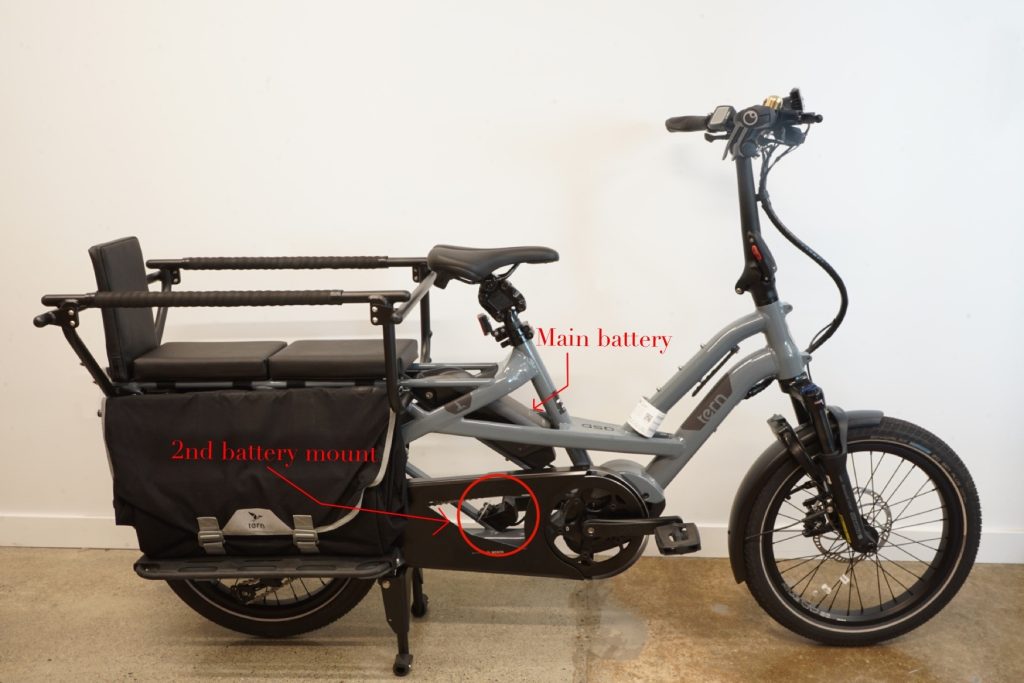 Some Riese & Müller bikes, like the SuperDelite or Supercharger, come with two batteries integrated into the frame, one battery in the top tube and one battery in the bottom tube. 

If you're leaning toward a Bulls bike, you will have one dual-battery option since Bulls bikes cannot be modified. As of fall 2022, the only Bulls bike that comes with two batteries is the Adventure EVO AM with a PowerTube integrated in the downtube and an external PowerPack tucked underneath the top tube.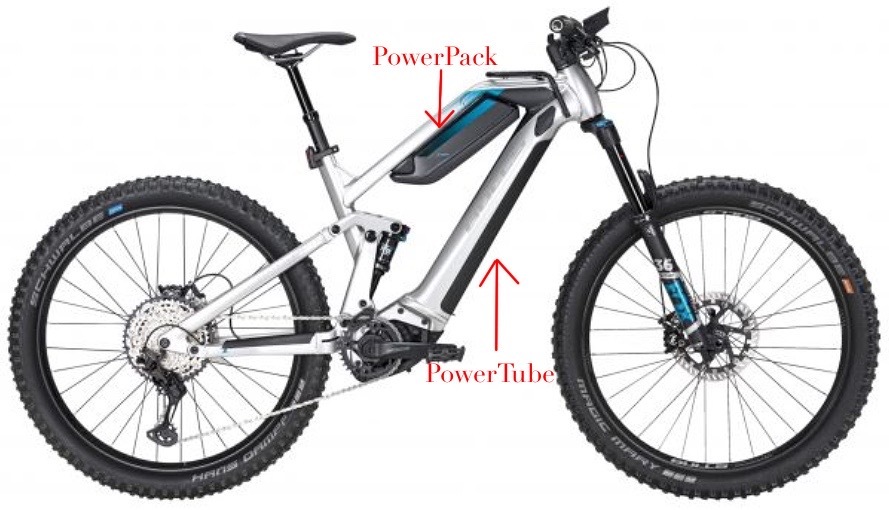 Which mid-drive electric bikes can get a dual battery upgrade?
This is a good question, and one we get asked often. Let's run through the options!
Most Riese & Müller bikes come in a single- or dual-battery option. This is something you decide when ordering a custom configured Riese & Müller eBike from Germany with the help of Propel. Once an order is placed, the build is final and unable to be changed or edited.
Single-battery Riese & Müller eBikes cannot have a second battery installed aftermarket. However, if you order a dual-battery eBike, you have the option to remove one battery for shorter rides to lighten the load (to charge dual battery R&M bikes both batteries must be installed).
The design of the Tern HSD and Vektron prevent them from receiving a second battery, there's just no place for it. Same for the Benno RemiDemi, eScout, and eJoy.
What if you want, or already have, a Royal Dutch Gazelle or a Benno Boost? Although these are designed and built with a single battery, some of these can indeed be upgraded so that you can enjoy the longer range that comes with two batteries.
The Benno Boost E 10D Speed is the only Boost model in North America that is capable of a dual-battery upgrade (the Boost CX can also receive an upgrade but these are not currently available for sale in the U.S.). Both the high-step and low-step frame styles can receive a dual battery upgrade.
Other Boost models, RemiDemi, eJoy, and eScout 
Many of the Royal Dutch Gazelle bikes can be upgraded, but it all depends on the frame geometry. In several cases, for example, the smallest frame sizes are not eligible. If you know what kind of bike you have or are interested in, and the size, you can use this convenient chart to determine whether a second battery can be added to the model you're interested in.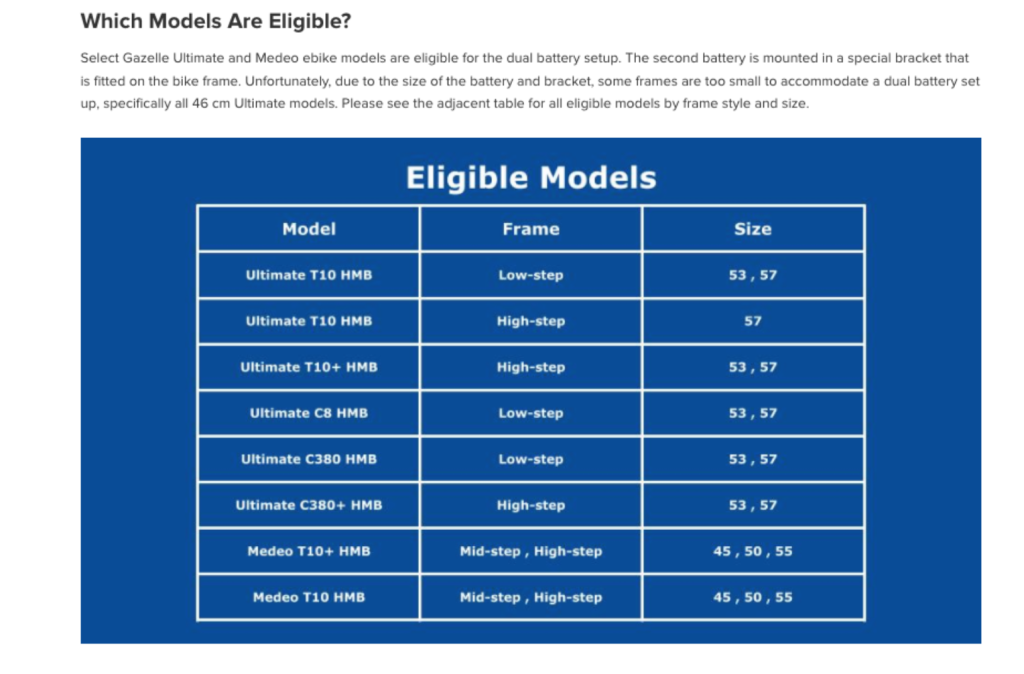 [Image courtesy of Gazelle: ​​https://www.gazellebikes.com/en-us/knowledge-base/electric-bikes/battery-and-range/dual-battery-compatibility]
What does the dual battery upgrade include?
It includes the battery mounts, the lock cylinder and key, the wiring of the electrical system and the installation of all these together. It usually includes the second battery, unless you request to wait and purchase it later.
How much does a dual battery upgrade cost?
As of winter 2021, Propel charges $1,000 and up for a dual battery upgrade, including the battery (the battery costs about $800). If you only want the mounts installed and wired, because you are planning to purchase the second battery at a later date, you'll pay for the parts and labor. 
While the labor is pretty consistent for any type of bike, the cost for the parts ranges. The battery mounts and wires for the Gazelle Ultimate bikes cost $250, for the Gazelle Medeo it is $350, and for the Urban Arrow Family the parts for the dual battery upgrade are $650. The prices for the additional Benno parts are not confirmed in our catalog at the moment but should come in close to the parts for the Gazelle Ultimate, around $250 or so before the battery and labor.
If you're interested in, or already have, keyed-alike locks, bear in mind that this battery mount also has a lock cylinder. It can be keyed-alike, but there will be an additional cost of around $40 for a bike that already has Plus keys or Xplus keys, and $200+ if the bike's existing keys are Trelock, Axa brand, or Abus T82 keys. (Need both new battery locks and cafe lock in those cases)
Have any questions?
We hope this helps! If you have any questions, please feel free to contact one of our Matchmakers here.