Have you ever locked your bike outside somewhere, only to come back and find your seat, handlebars, wheels, or all of the above missing? Or maybe this hasn't happened to you yet, and you want to make sure it never does. No matter your reasons for wanting extra bike security, Hexlox is one surefire way to decrease the chance of your components getting stolen.
Hexlox makes security components for the front and rear wheels, seatpost clamp, stem, and most hex bolts. Since not all bikes are made the same, you will first need to identify the components you plan to secure. For example, do your wheels attach by quick-release or thru-axle? Does your seatpost clamp have a lever, or does it require a tool to adjust the height?
If any of these questions left you scratching your head, don't worry; we're here to help. Below we will identify these different bike components and which Hexlox parts will work best with each one.
---
Front Wheel Security
Bikes come with different axle types to keep each wheel in place, such as the thru-axle and quick release dropouts pictured below. When it comes to protecting your wheels, the first step is to know which one you have on your bike.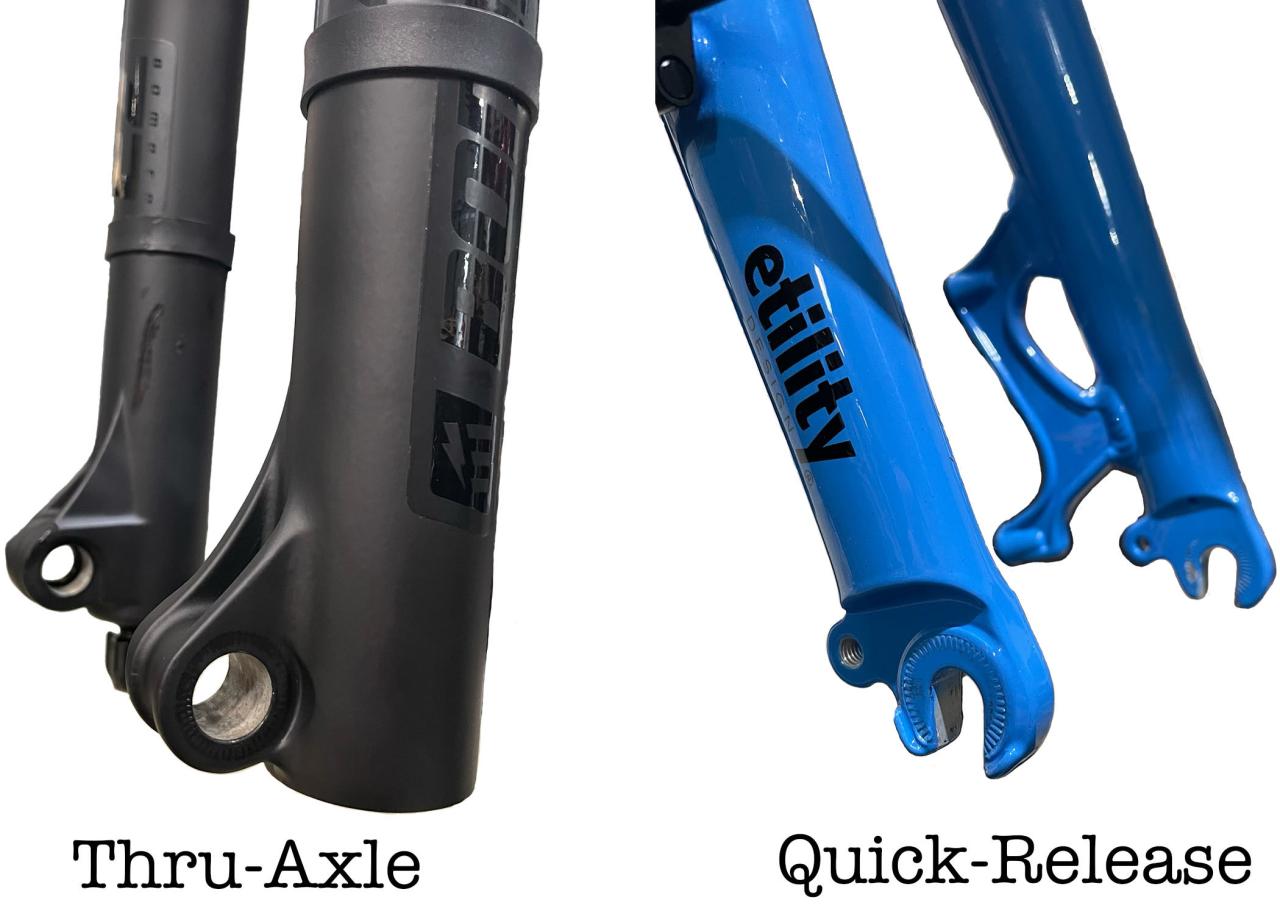 For bikes that use quick release skewers (the metal rods that attach your wheels to the frame), Hexlox makes Security Skewers in two sizes, a shorter one to fit the fork in the front and a longer one to fit the rear wheel—and two colors, silver or black. The last two things you need for a complete wheel-security package are a 5mm Security Magnet (one per skewer) and a Hexlox key.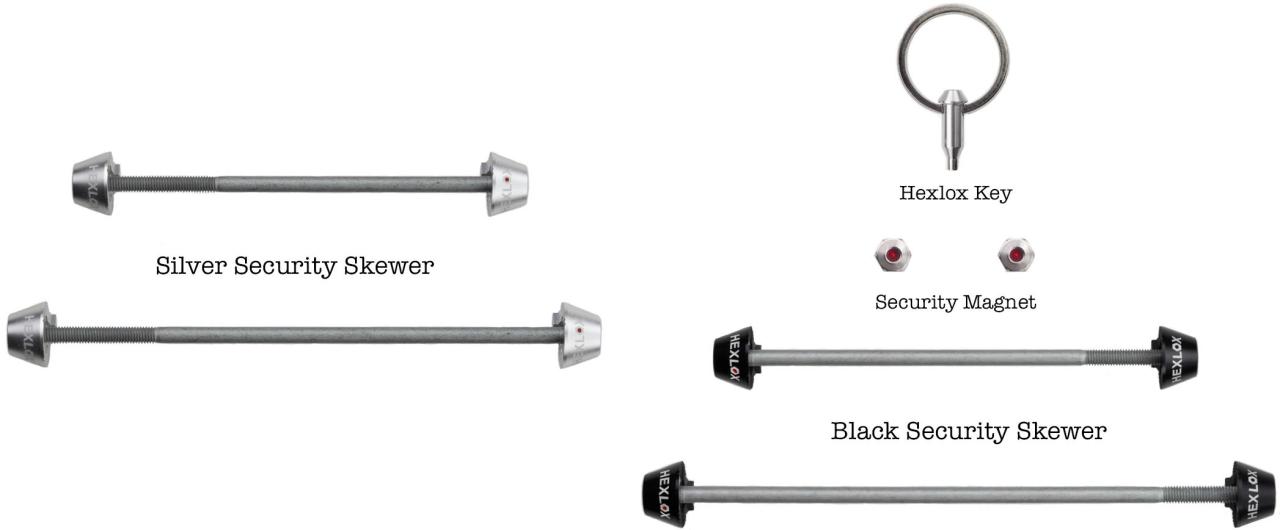 When it comes to thru-axles, Hexlox makes a Universal Thru-Axle* for daily commuters, urban riders, and those not planning to do any heavy off-road riding. These are adjustable, meaning they should fit the front and rear wheels of just about all thru-axle types. This part requires a 6mm Security Magnet to lock it on (and don't forget a Hexlox key!).
*Not to be installed on the rear axle on Tern GSD models
For off-road riding, such as trail or gravel riding, there is the Robert Axle Project Thru Axle Bolt On Lock.* This solid security thru-axle is trail-tested, high performance, and lightweight. However, this part is not adjustable and therefore comes in many size options, so if you're installing this without help from your local bike shop, you'll have some measuring to do.
*To protect the rear wheel of your Tern GSD, the Thru Axle Bolt On Lock is recommended.

Hexlox has a nifty printable measurement and compatibility chart to help you identify which Thru-Axle Bolt On Lock you'll need for the front and rear. Take a look at the chart here. Once you have done that, this form will help you identify the part number.
If you need assistance or more information, give us a call! If you have an eBike that we sell at Propel, we'll be happy to assist you in getting the right measurements and making a purchase.
---
Seatpost Clamp Security
Seatpost clamps (also known as collars) will either be bolted on (left image) and require a tool to loosen and tighten, or come with a quick-release lever for adjustment (right image).

If your seatpost collar has a quick-release lever, you'll want the Hexlox Universal Seatpost Security Set, which consists of four bolts ranging in length from 25mm to 40mm, a 4mm Hexlox Security Magnet, and a wave washer.
You'll also need this set if the head of the bolt on your fixed collar is not hex-wrench compatible (for example, a Torx bolt).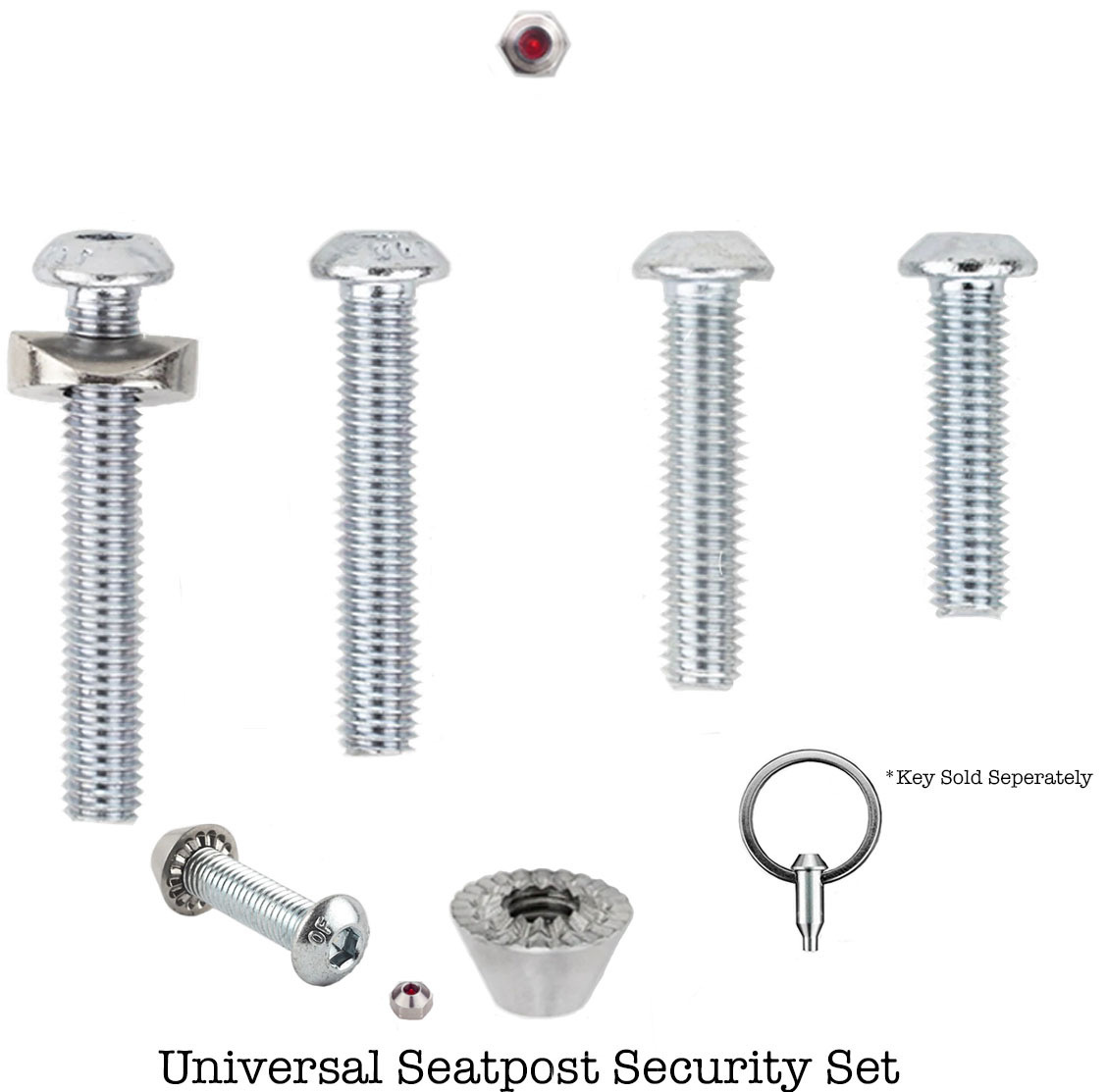 For fixed seatpost clamps that have a magnetic hex bolt, you'll need to get the proper sized security bolt and a key. To find the right size security bolt, choose the millimeter size that matches the size of the hex wrench you use to loosen the bolt and adjust the seat height. If the bolt on your seatpost clamp is non-magnetic, then you will need the Hexlox Non-Magnetic Security Bolt.

Not sure if your hardware is magnetic or not? Test it out by trying to stick a magnet to it. If you're wondering where to find a magnet, check the fridge!
---
Saddle Security
Now that your seatpost is safe, your saddle may still at risk of being stolen. Most saddle clamps on modern bikes use one or two hex bolts to fasten the saddle onto the seatpost.
If your saddle clamp looks like the one pictured below, then all you need to do is determine if the hex bolt is magnetic (or not) and what size security bolt you'll need.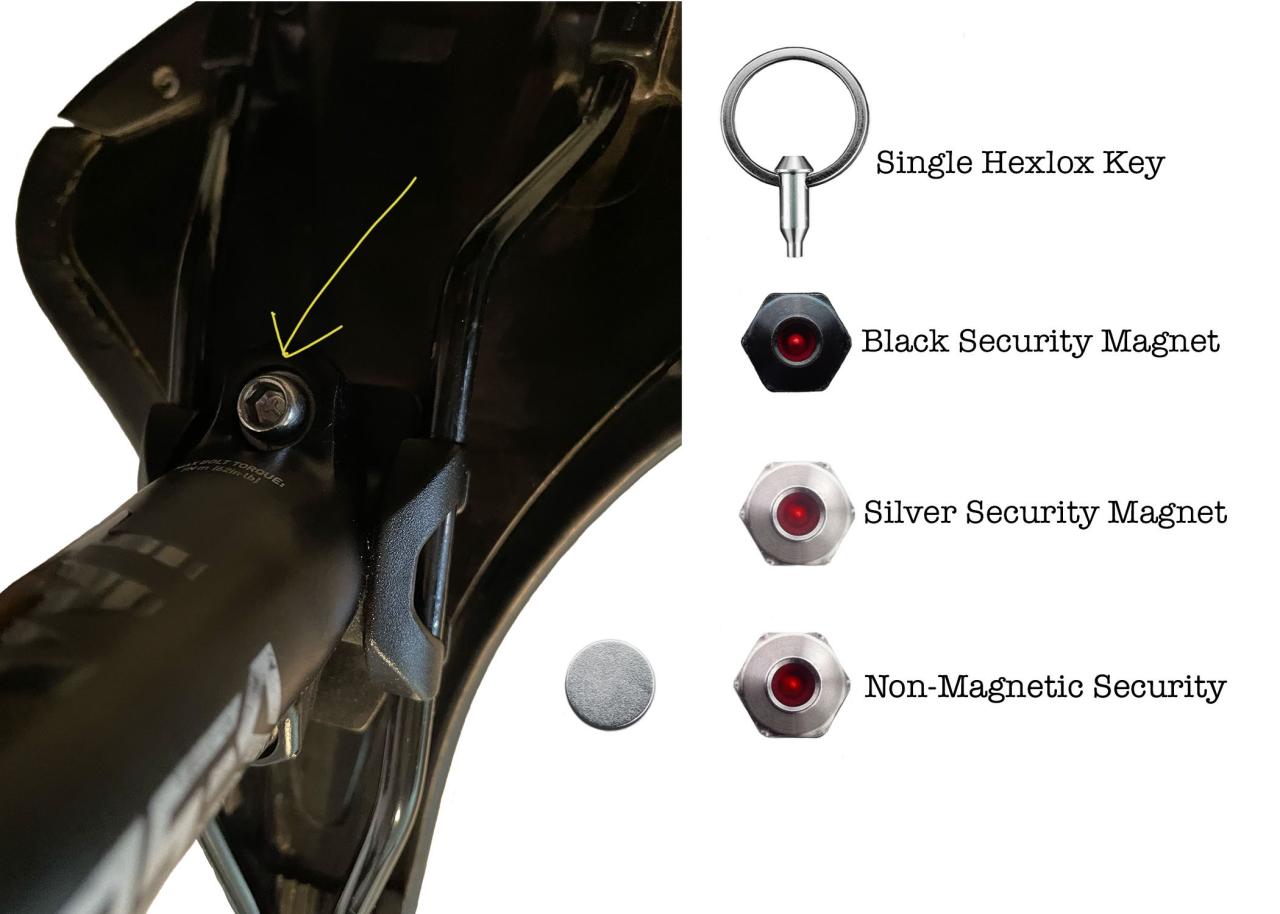 While guts clamps are usually found on older vintage bikes, you'll see them on the Cane Creek Thudbuster Suspension Seatpost, as well as certain Riese & Muller and Tern bikes.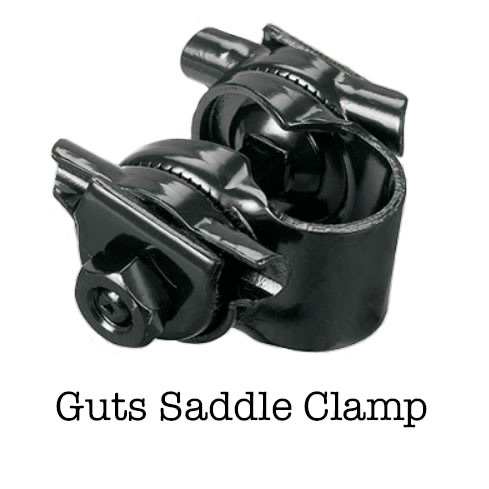 To keep your saddle safe with the guts clamp, you'll want to replace the existing bolt with the 60mm Guts Clamp Saddle Bolt. This bolt takes the 5mm Security Magnet, which requires a Hexlox Key. Both items are sold separately.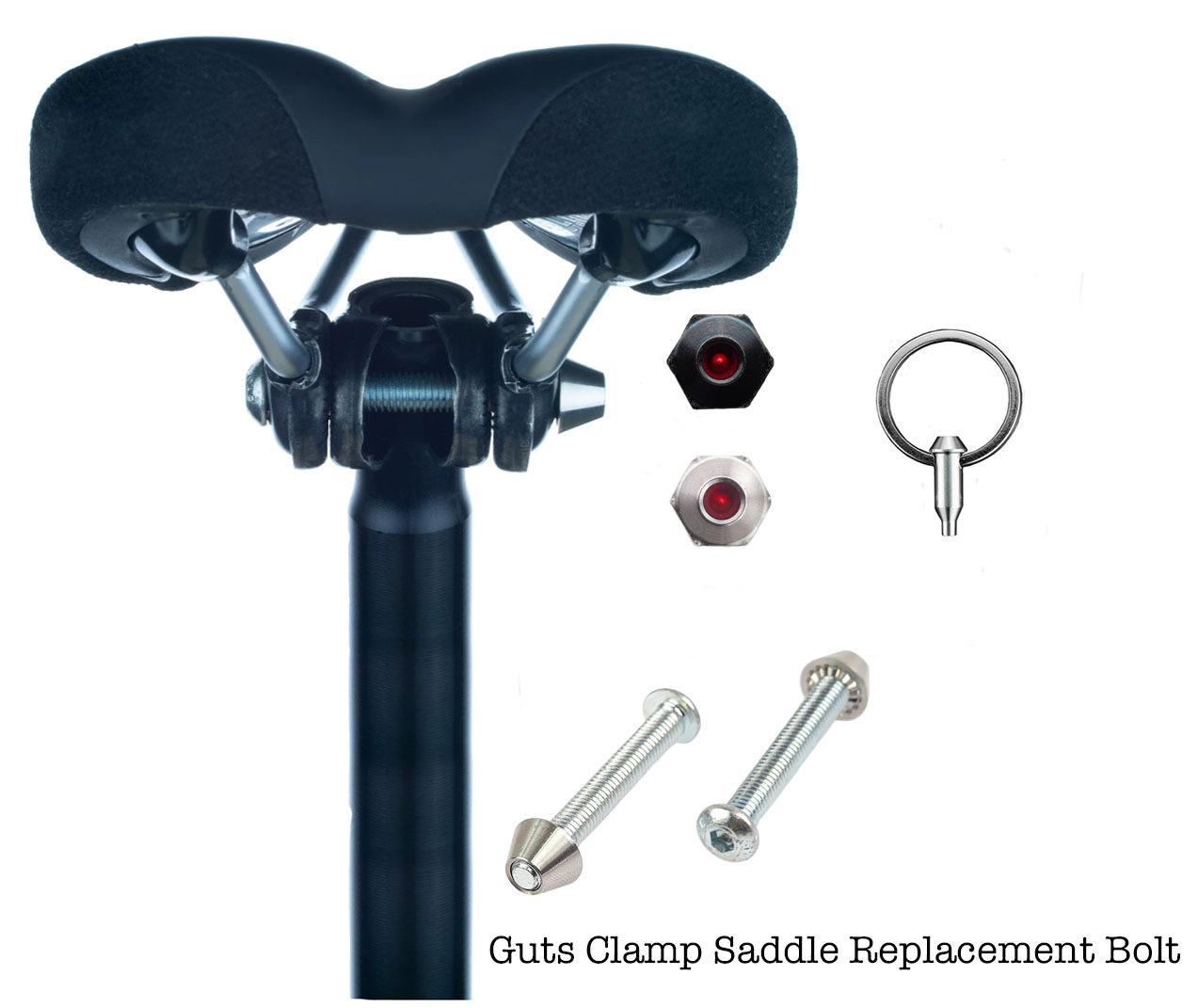 ---
Miscellaneous Component Security
If you want to secure other components on your bike, such as the brakes, lock-on grips, or a mirror, the Hexlox Security Magnet will work with any magnetic hex bolts in the following sizes: 4mm, 5mm, 6mm, 8mm, and 10mm.