Performance Line CX provides a unique eMTB experience. Compact, lightweight, and with more power, it combines high-quality materials with an enormously powerful drive and sophisticated sensors. It adds a whole new dimension to eMTB riding on the trail. Since model year 2021, it offers torque up to 85 Nm, motor control features, and an enhanced eMTB mode. For an exciting riding experience: natural, intuitive, powerful, and an absolute benchmark in its class.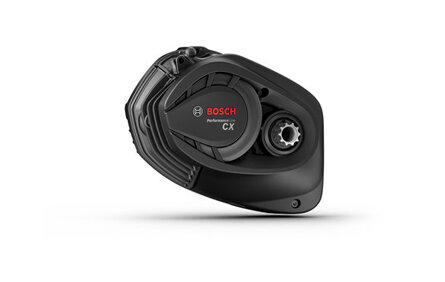 Support level (%): Maximum Torque Drive (Nm): Maximum Torque Drive:
TURBO: 340 TURB0: 85*** >120

eMTB**: 140-340 eMTB**: 85

TOUR: 140 TOUR: 50

TOUR+****: 60-340 TOUR+****:85

ECO: 60 ECO: 40
**In the case of the Performance Line and the Performance Line CX, eMTB mode can replace Sport mode. It can be activated/ deactivated by the bicycle manufacturer and a Bosch-trained dealer.
***Since model year 2021, the drive unit has been offered with 85 Nm; the previous versions offer 75 Nm. Some Drive units from model year 2020 can be upgraded to 85 Nm.
****For the Performance Line CX, Tour+ mode can replace Tour mode. Activation/deactivation can be carried out by the bicycle manufacturer and the specialist dealer.
---
Performance Line CX for Smart System
This motor has the same technical data as the one above, the difference is this motor is compatible with the Smart System via the eBike Flow App where you can fine-tune the assistance levels and more!


Intelligent Theft Protection
You can easily use the eBike Lock function via the eBike Flow app on eBikes with the smart system. After a one-off installation, the smartphone acts as your digital key for deactivating motor support. Recognition uses Bluetooth technology, so your smartphone can stay in your pocket. Short acoustic signals, lights and symbols on the LED Remote, display or smartphone indicate whether eBike Lock is active and thus motor support is deactivated. eBike Lock in the smart system offers free, additional theft protection and greater security. If you lose your smartphone, you can simply log into the eBike Flow app with your account on another smartphone.